Comprehensive online database of import duties and taxes, special and preferential rates, exemptions and import trade controls, all in one-view tariff.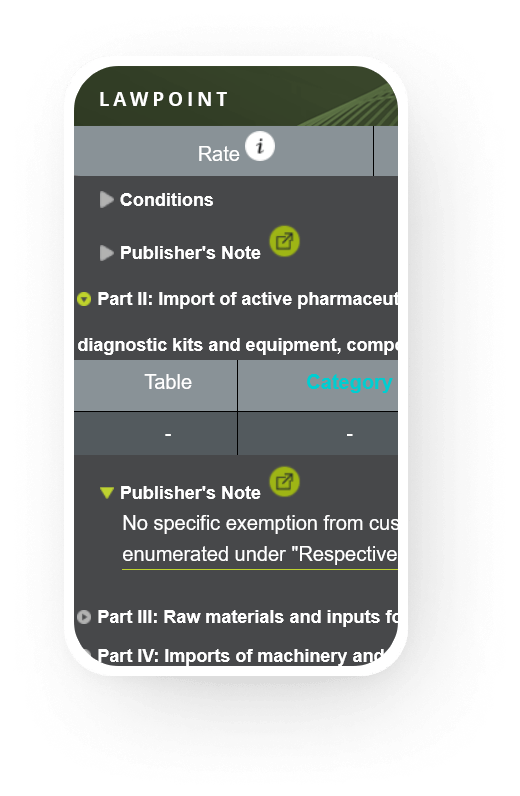 Search, explore and discover digital tariff
LawPoint's One-view Tariff is an invaluable tool to find out the applicable tariff on import merchandise, commercial, industrial or sectoral, along with special and preferential rates applied under free trade agreements, customs schedules and concessionary notifications. View the information in conjunction with standard or special rates of sales tax, withholding tax, federal excise duty and other levies. The tariff rates are supplemented by enumeration of import controls for 365 degrees information against each tariff line.
Import notifications & trade controls compendium
The online compendium of import notifications comprises twenty sections, comprising –
Rates under Customs Fifth Schedule
Free Trade Agreements
Industrial import exemptions
Sectoral import exemptions, e.g., medical & COVID-19
Export facilitation laws
Special Economic Zones regulations
Index of locally manufactured goods
Baggage assessment
A-Z allied notifications
Sales Tax rates & exemptions
Withholding Tax rates & exemptions
Federal Excise Duty rates & exemptions
A new digital experience to help you navigate the
tariff and allied laws
LawPoint provides easy content navigation through its 3-tab control panel. The experience is unmatched and unprecedented in comparison to to the contemporary print resources.